Sunday, January 08, 2006
I HAVE MOVED!
http://alignedscribbles.blogspot.com
7:32 PM |
[- photography? -]
hello.
hmm. i've been thinking about it, and i've been wanting to learn more about it.. but i never really did get on with it.
i'm talking about
photography.
i seriously want to learn more about it uh. apart from the one-second-pose-and-snap thing which even my sister knows. i'll prolly take up a course or learn it by myself. not now. i'll have to wait for the close to 2 month break time in march+april. so yes, i have a solid and achievable goal! by end of april, i must know a little more on photography. anybody wishes to take up this fun fun fun skill with me? it's always better to learn something new with a friend. :) so if you're interested, get back to me yeah.
the weather's so lovely. it's been pouring since yesterday. super nice weather to stay in bed all day, but it also means more frequent visit to the loo. bleh.
i don't like this c-ryuz-choccy name anymore. lets go for a change!
till i move~
5:43 PM |
Thursday, January 05, 2006
[- back to school.. -]
hey anne.
yeap school has started once again. lots of work for me to do. sigh. but it's going to be fun fun
fun
!
what's in for january in my schedule?
- 5th: meet up with primary school buddies, those i've not met for like over 5 years!
- 7th: lan's birthday (!!!)
- 7th-13th lots of work work work for the open house.
- 15th emceeing for RP Open House performances
- 16th & 17th: help out at STA booth
- 24th: BSB CONCERT (!!!)
- 27th-29th: going out of town with mum.
now, looking at the list, i guess 2006 is going to be an eventful, busy and fantastic year. hope my friends' first month of 06 is going to be as good.
how about my new year's resolution? simple. to make this year better than the previous in every possible area.
it's way past midnight already. shit. i need to sleep.
till i greet the second month in Gregorian calendar~
2:14 AM |
Saturday, December 31, 2005
[- happy new year -]
:))
4:04 AM |
Friday, December 30, 2005
[- yay! eka! -]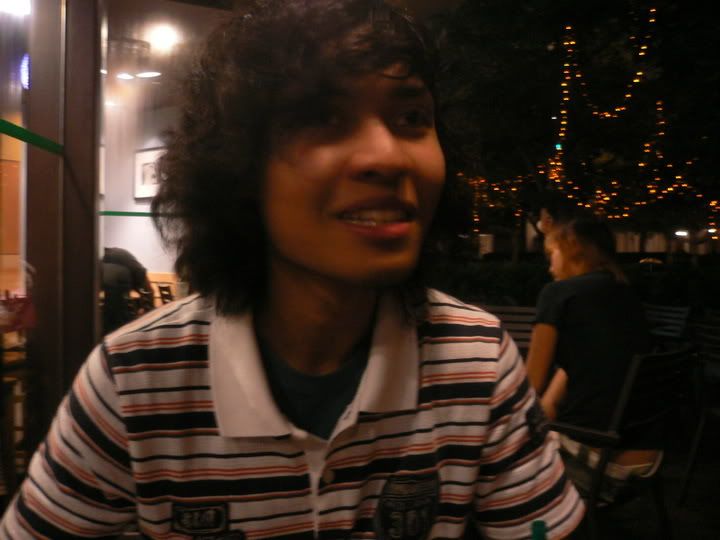 haha.. hello anne.
today i want to note this down on my blog. i recently met up with one of the closest friends in my life, he's more like a brother already, after close to a year of not meeting! like so HURRAAAAYYY la! he looks too skinny now, but still the same old lovely Aryhady Eka Satria. =) it was really nice to see you, eka. and yes, we must meet up more often. oh and i realised, he has a thing about touching his face. haha.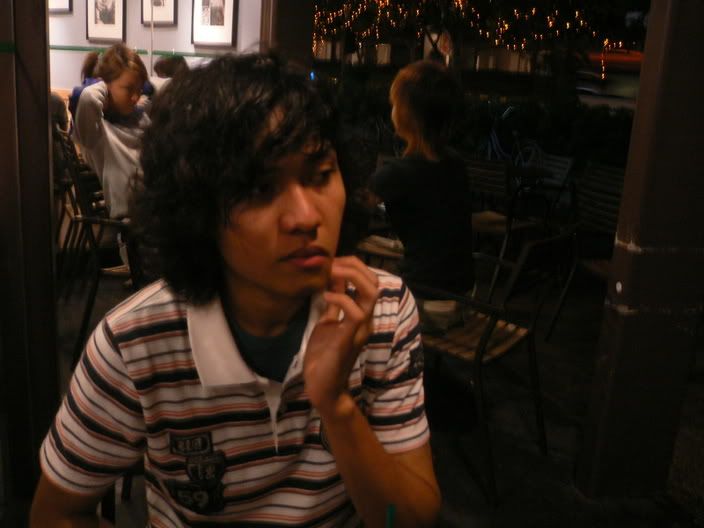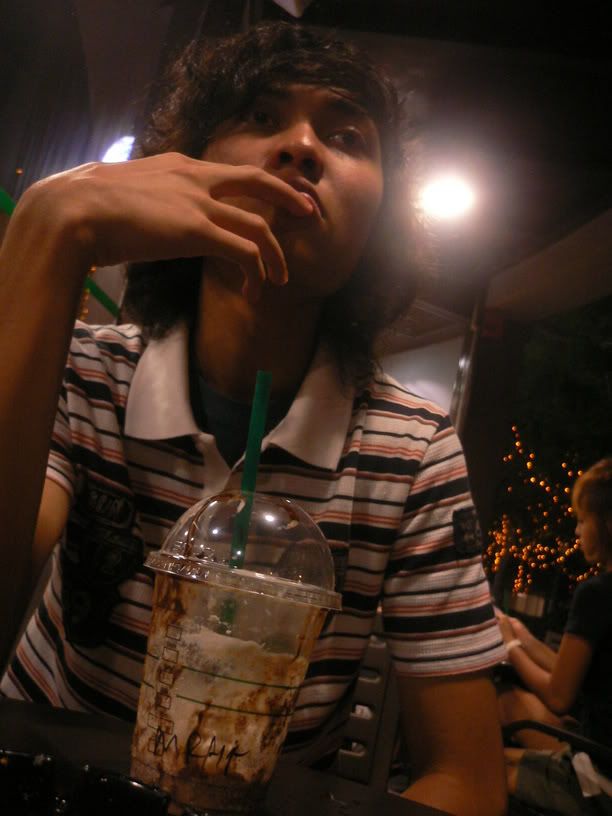 right?
ok going out with mum and sis now.
till i meet more lovely humanoids~
6:57 PM |
Friday, December 23, 2005
[- RP Open House 2006 -]
for those of you who have just taken your O's, waiting for the results and are wondering which school/course to apply for.. here's a website that you can go to, to get a better idea on the newest, most coolest, Poly in SG.

visit:
http://www.rp.sg/openhouse/
till then~
9:38 PM |
Thursday, December 22, 2005
[- blehh.. -]
anne,
if there's one thing i cannot be tolerant with, it has got to be impudent/crude people.
there's a fine line between being funny, and being rude. sometimes, people don't realise that they've stepped over the line, landing them into the offensive-zone. and if this happens once or twice, well then, that's fine. i believe i can close an eye, play pretend that it's okay. but this shit has been happening countless of times, as though
she's
trying to provoke me, beyond my limits of patience.
lets just see how many blows i can take till i myself truly blow. lets just see how long
your
luck with stick with you.. time and again, i find myself having to repeat this.. it doesn't mean that when i keep quiet and do nothing, that i don't give a damn. i very well do. so please, my friends, know when to stop.
i shan't mention names here, for my intention is, not to make a mockery out of
you
, but simply just to make
you
aware that
you've
pushed me far enough with
your
ill-mannered self. start playing your cards right, before i join in the game. and when i do, it won't be a lovely game of two.
:)
on a lighter note, i watched 'The Chronicles of Narnia: the lion, the witch and the wardrobe' with a number of young ladies. personally, i find the movie, superb. it's not very often that i enjoy movies such as this, you know. if you're the sort who'd only enjoy grown up guys fighting, like the ones in Troy, then i don't think you'd find Narnia awesome. but if you can deal with
raw, young knights
, give this movie a watch! oh btw, i find that Peter looks like Prince William, don't you think so?
ahh. my holidays are coming to an end. not looking forward to it, cause i can't afford to skip any classes anymore! boohoo. imagine me, having to get up so damn early every single day, to get my ass to class. raaa.
"last christmas i gave you my heart.. the very next day, you gave it away. this year, to save me from tears, i gave it to someone special.." (eh, did i get the lyrics right?)
to those who are going to celebrate Christmas, HOHOHO to you! have a joyful celebration. i don't celebrate, but i accept presents. =D
HAPPY HOLIDAYS SINGAPURAAAA~
8:58 PM |
Saturday, December 10, 2005
[- new look. -]
hey anne.
after so long of not updating you, i've came back with a new look for you. alright, the art piece you're dressed up in is done by a
fantastic artist
, whom i personally favour, Carrie Notari. check her out at her website:
http://www.fotobot.com/gallery.html
things haven't been as smooth sailing. too many things happening. and me being abysmal with time management, you can just imagine the chaos that is taking place in my otherwise, not-so-entertaining life.
i am actually feeling a little off, today. cause i found out that something which i've been working on for weeks have been taken off the calender of events, for whatever reason. blehh. it's insulting to know that some people just don't appreciate the effort that others put in. unlike many other things, we can't turn back time, you know? so this definitely a
huge
waste. but ah, things happen for a reason.
on the positive end of this news, i have FOUR SOLID FREE-DAYS to spend with as many friends as possible! heh. 2 have been booked up. expect lots of picture perfect moments! oh my, am i
hapcited!
ergh. i'm starving.. feeling so ravenous ok.
hey, fat people still need to eat, okay?
=p
right. i'm done with an update. sorry for making you people wait. will update again real soon.
till i meet my lovelies~
7:22 PM |
Wednesday, November 23, 2005
[- iPod Video! -]
hello anneeeee...

hurraaaay.. i'm getting that today! my very own iPod Video! :)
changed my mind about the iPod Nano. i got to mess around with Rion's and i think that it sucks. haha. Emma! you were right. Nano sucks. =
alright. breakfast time beybeh!
btw, STA mates! get your tickets for the STA 3D-2N Party now!
Entrance fee: $12
Age Limit: 16 and above
Dress Code: Anything but Bikini and Speedos
till whenever~
9:59 AM |
Monday, November 14, 2005
[- hello. -]
Anne. =)
"The very substance of the ambitious is merely the shadow of a dream."
-Hamlet, William Shakespeare.
hmm. things have been going on fine for me. as usual, i'm caught up with school. planning for a camp, an open house, a minister's visit and so on.
friends have been looking for me.. sigh. hopefully, i'll be able to find some time to spend with them during the December break.
oh yeah, last thurs, fri and sat, i attended a design conference, Design Edge, at Suntec Singapore. some of the stuff i saw there were
awesome!
the highlight has got to be, me meeting RoStarr in person! i even got to take a pic with him. lovely!
do you know who he is? no? then visit:
www.rostarr.com
:)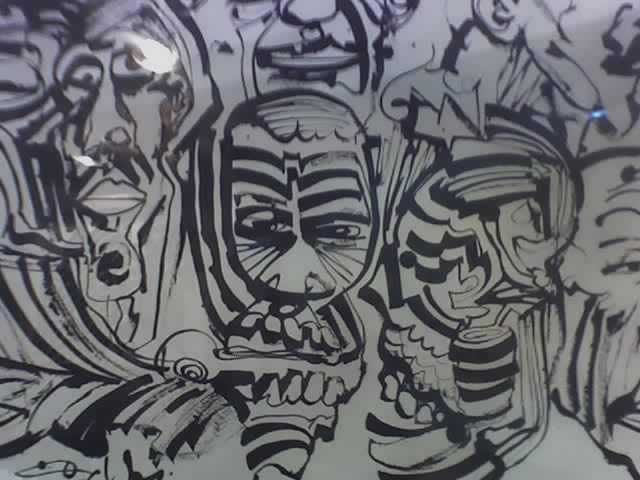 one of my favs by RoStarr.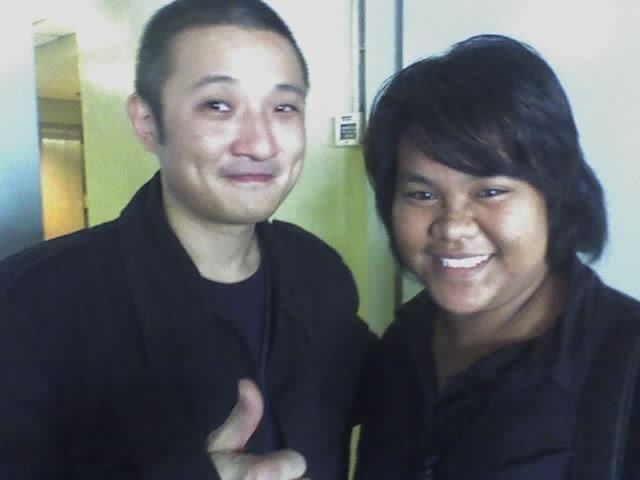 yep that's him all right!
oh and guess who was there too.. our local graff artist, The Killer Gerbil.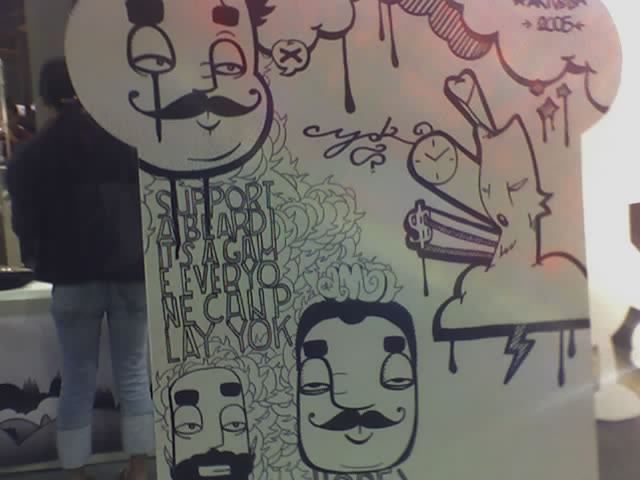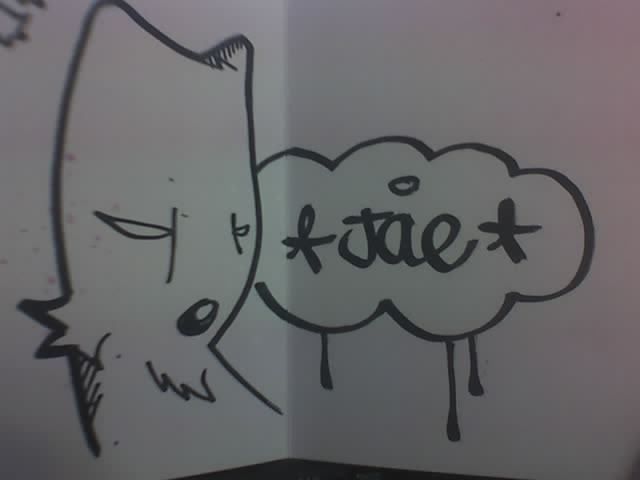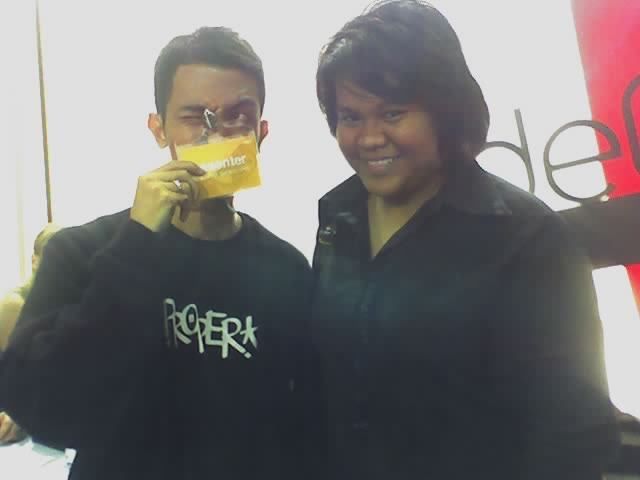 nice ay? =))
ahh and finally, cool lightings!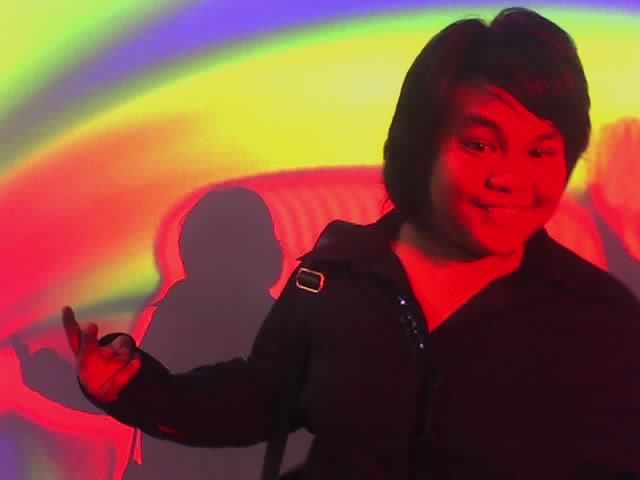 ok that's all for now.
oh yeah, i wanna wish
AZZAH FARIHA A HAPPY SWEET 18th BIRTHDAY!!
and
HAPPY BELATED BIRTHDAY AIN!
love you both! mwah!
and
congrats GHAZ for winning the flybynight competition!
i'm so proud of you!
till next time~
7:16 PM |
Monday, November 07, 2005
[- with Ain -]
hello anne.
last night, my sis, Ain, slacked with me for a lil while in my lovely room. and guess what happened?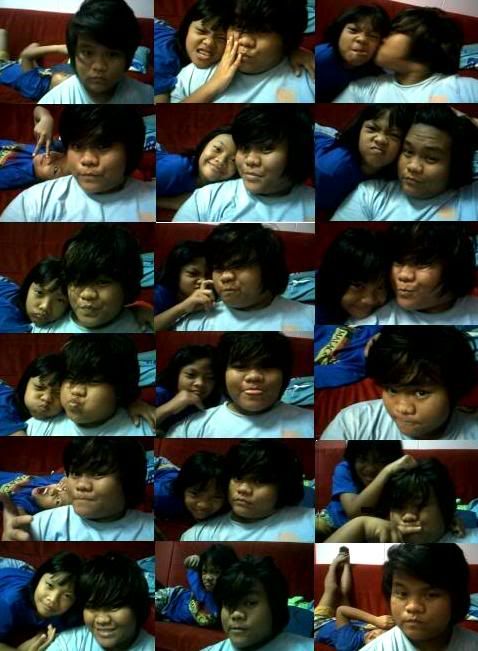 eheheh.
she ended up falling asleep. after 5 minutes of photo snapping!
till Ain slacks with me once again~
3:02 PM |
Tuesday, November 01, 2005
[- need, want, miss -]
do you know i need now?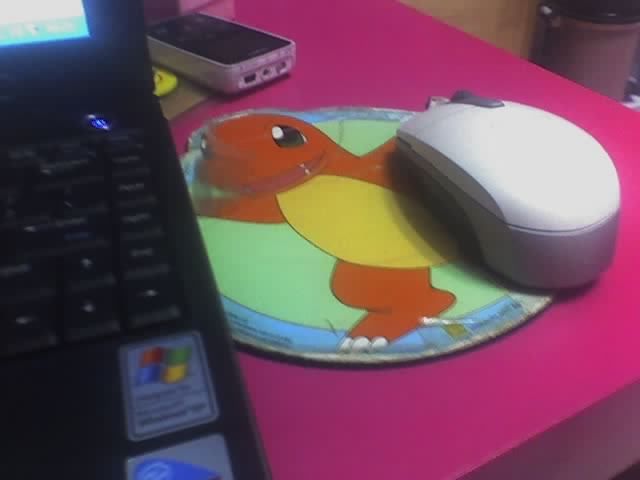 a new mouse pad! urgh. been using this Pokemon character, Chamander, mouse pad since ages ago.. boo.
do you know what i want now?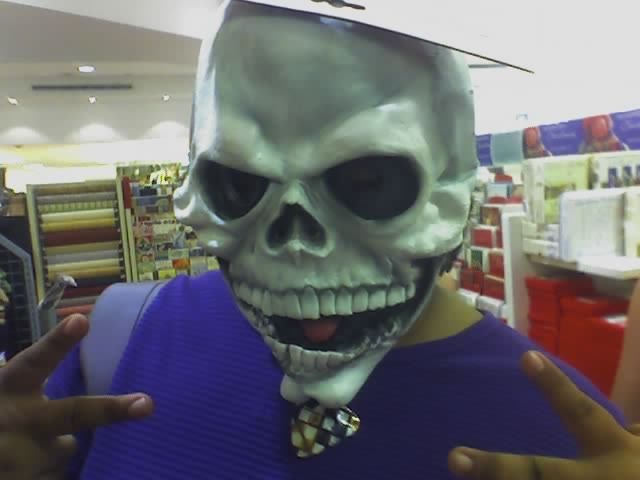 one of those masks. no, not for Halloween. but for the fun of it. i feel like walking round town with it. you think?
do you know who am i missing now?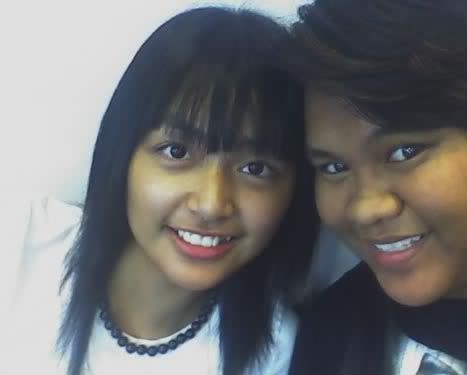 azz faiha. heh.
ok. hari raya's just round the corner. i'm tired of cleaning up my house. and you know what? i don't feel like going round visiting people this year. =
till RAYA~
10:25 PM |
Tuesday, October 25, 2005
[- ooh yeaargh -]
hello anne!
first up, awesome news! The Fugees are back! yayyyyy!! thank you Mr Shaun, my facilitator, for sharing this with me. can't wait to get my hands on their album! oh and Alicia Keys' Unplugged album. is it out yet? hmm. i want that too! make me a happy girl, and get me those two albums! heee. =)
ok secondly, this goes out to STA peeps. be all psyched to get real busy with shit loads of workshops and events ya'll! the management committee will be working on it. lets finally be true media students by learning and getting involved with media stuff, shall we? heh. looking forward to a screening of a local film, by Tan Pin Pin, this saturday at the Arts House. i heard from Ghaz, it's a great show. hurraah.. can't wait.
i've got camps to plan, poly open house to plan, and much more. busy busy. lets get down to business!
gotta get back to 3rd meeting.
eh.. before that..
Nerdy Doody . Jaeness
nice right, nerdy? heh! i like it too. =)
alright. till next update~
3:52 PM |
Sunday, October 23, 2005
[- a change? -]
hey anne.
so, my dearest peng has requested me to change my blog layout weeks ago. i've finally done it. not that pretty, but i like it anyway. my heart feels just as rotten as the picture. wargggghhh.
MACAM IRRITATING GITU KAN?
i'm involved with lots of events in school. BUSY BUSY. so don't go looking for me alright.
till you stop being so annoying~
10:31 PM |
Saturday, October 15, 2005
[- his name shall be.. -]
hey anne.
thanks to my aunty, i have found a name for my son! if i'll ever have one that is.
i was going through some papers at her place just awhile ago. there were lists of names. and i found some nice ones. but there's only 2 which really caught my eye, Qays and Ra'akin. boys name. soooooo, if i have a son in a decade's time or something, his name shall be just that. ahaha..
Qays Ra'akin. it was stated that the meaning is Firm & Respectful.
:)
if i do read this blog in years to come, i shall be reminded to name my son that.
OR! if i get a brother or a nephew or a baby cousin.. any baby boy i can name, that shall be the name! heeeee.
till tomorrow~
//editted
earlier on, i didn't feel like blogging about this, but right now, i feel the need to say it out. thanks to dad's msg. he just sent me a text saying "nurul, sorry about the incident earlier on btwn mama and cik lin and also with you and cik sur. kalau la semua orang boleh bertolak ansur dan hormat menghormati prerasaan orang lain, tak kan berlaku sebegitu. (which means: if only people can give and take, respect each other's feelings, then this wouldn't happen). you can learn from this. don't let it dishearten you."
yes abah, i know. i'm sorry that you have to face that kind of humiliation, too.
see, my dad's side had a family gathering just now. break fast together. one of my uncles invited my mum as well, for whatever reason. when i found out that mum was joining us, i felt a little uneasy. but i didn't have the heart to tell her not to come. so she came, and awhile later, while we were all chatting in the living room.. my mum said to my dad "abah, i won't be at home on monday, so won't nurul. make sure you come by and cook for ain her break fast ok?" and one of my aunties, Cik Lin, made a wrong move by commenting on what my mum had said to my dad. she went like "what is this? divorce already still bully my brother *said it in malay. and ended her remark with a fake laughter*" and ohmygod. along came my mothers defence and cik lin stupidly replied her. they went on and on. both giving fake laughter each time they said something. it was so obvious that they were hitting each other hard. others just sat and watched them, some pretended to watch the tv.
sigh. i felt so uncomfortable. if i hadn't tapped my mum's arm and gently shook my head, i think it would have led to a very ugly fight. imagine what went through my dad's head.
my dad's siblings no longer accepted my mum after the divorce, and i clearly know this. i guess they have this mentality of
once divorce, you're no longer part of the family. we are back to srangers.
i bet mum knows this too. i wonder why won't she just keep away from my dad's family then? if they can't accept you anymore, then just walk away. no point hanging around, right? sigh.
i sometimes hate big family gatherings such as this. not only do i have to deal with the above kind of situation, i too have to face people who loves giving judgements. i have many uncles and aunties, and of course, as expected, not all are nice. and sadly, i had to sit beside an insenstive one for a lil while, just now. she said "why is your mother here? no one wants to see her. this is a
family
gathering. tsk. and nurul, why are you so fat? cannot be so ugly, everyone will hate you even your parents. later your dad won't even dare to introduce you as his daughter. ee. how?" *she said it in malay* i just stared at her blankly and smiled. what's her motive? already 50 years old, and yet she's all out to hurt everyone. including me, a 17 year old. pick someone your own age, can?
for the first time, i got affected by this kind of comment.
for a moment, i felt that being ugly is a huge crime.
and i ended up crying to dad. hah.
sighhhhh. tomorrow, there'll be another gathering at another aunty's place. mum's not invited to this, or rather, mum said she won't be coming. thank god. i hope the i'm-too-ugly-for-her-eyes-aunty won't be there. wargh.
till i call daddy and wish him good night~
11:46 PM |
Wednesday, October 12, 2005
[- lovely posters -]
hey anne.
i know the movie, charlie and the choc. factory is so passe already but i just came across nice posters of it, one of which only has Johnny Depp as Willy Wonka on it and another of the whole
gang
. i don't know why, but
i love these posters.
this is great, cause i seldom see great posters of movies. =\ another superb movie-poster i can think of is Harry Potter. and oh, Mr & Mrs Smith. their posters were darn simple yet outstanding.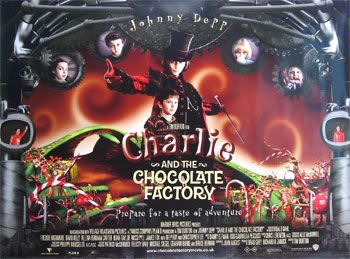 alright. my eyes feel heavy already.
till i find more lovely posters~
10:33 PM |
[- maya wants to see me do this. =\ -]
Seven things that will scare me:
1. scary movies. yeah, don't ever ask me out for any.
2. scary things/figures.
3. mum's threats.
4. the death of mum and dad.
5. failing in life.
6. the thought of begging for food. =7. growing old ALONE.
Seven things I like the most:
1. peaceful, slow morning(s).
2. peaceful, slow night(s).
3. WIDE, WHITE, heart-warming smiles.
4. grooving to songs.
oldies.
rnb. anything.
5. reading.
6. lazing around like a cow.
7. good food.
Seven most important things in my room:
1. laptop. a must touch&use every single day.
2. bed. i'll be on it 98% of my time in my room. i don't have chairs.
3. clothes.
4. cd collection.
5. bag collection.
6. telephone.
7. FAN. i hate sleeping in an air conditioned room (hint: waking up with a blocked nose.) so yes, a fan for me please.
Seven random facts about me:
1. i never had LONG hair. at most, shoulder length?
2. i love my sister more than most of you, who loves your siblings.
3. i cannot stand irritating people. especially those who makes no sense at all when they talk.
4. my ultimate dream is to be a psychologist. =)
5. i can be VERY fussy if i choose to be.
6. it's not easy to satisfy me cause i'm seldom satisfied with the things/people around me.
7. i love being me.
Seven things I can do:
1. move my ears. the moment i realise this fact about me, back in primary school, i went around showing everyone! haha.
2. pretend i know you if you approach me, when actually i don't even remember if i've met you before. (right, fira? heh.)
3. cry non-stop for hours, after watching a super moving movie/play.
4. wait for you for hours, even though i hate HATEEEE waiting.
5. stay up for days.
6. sleep for more than 15 hours.
7. calm people down.
Seven things I can't do:
1. be patient with total bitches.
2. run long distance.
3. be thin. SERIOUS. been fat all my life. heh.
4. go on for days without cash in my hands.
5. drive. not YET. soon okay?
6. say those famous tongue twisters. like peter piper?
7. lick my elbows. neither can you. so shut up.
Seven words I say the most:(in order frm 1-4)
1. hey you.
2. ehh?
3. okaeh.
4. oh my god..
5. ishhk.. really?
6. irritating! / eeeeetating!
7. the hell?
Seven celeb crushes:
1. brad pitt. old, i know.. but still, i LIKE. =D
2. jesse mcCartney?? =3. i
4. don't
5. have
6. many
7. crushes. =
Seven people I would love to do this:
1. fira.
2. art/shatoosh.
3. nadia maria.
4. peng. (but i know she won't.)
5. lin/patsy.
6. jolene.
7. you. who?
yay ok done.
till i sleep my night away~
9:53 PM |
Monday, October 10, 2005
[- how many times? -]
Anne.
here's something to ponder on.
ask yourself these questions..
how many times have you lied, to avoid hurting someone?
how many times have you lied, to avoid worrying someone?
how many times have you lied, to avoid humiliation?
how many times have you lied, to avoid getting into trouble with your parents?
how many times have you lied, to avoid meeting people you wanna keep a distance with?
how many times have you lied, to avoid negative judgements being made by your friends?
how many times have you lied, to make yourself feel/look better?
how many times have you lied, to make your life appear lovelier?
how many times have you lied, to make things go your way?
how many times.. how many times..
have you lied? for whatever reason..
truth is, all of us have lied for way too many times. white lies? tiny lies? big fat lies? they're all lies, alright. question is, why lie? why avoid the truth when deep down we know that's the right way to go? why do we take the risk in breaking the trust that people have in us?
and when you let lies revolve around your life, you'll one day have difficulty in knowing the truth for yourself.
i miss kenit. oops, did i just lie? heh. kidding. =p
till you ask yourself~
8:38 PM |
[- buy it from Amy! -]
hey anne.
i'm in school right now. doing science today. blehh.
anyway, just wanna do some advertising. see, i don't really make use of cosmetics, so i'm reaching out to ya'll, cause i know most of you do put on make up and stuff, right? sooo...
If you'ew thinking of buying cosmetics, perfumes, toiletries or anything else for that matter, head down to SASA COSMETICS at Wisma Atria, ask for Rohaimi or Amy.. she'll help you out with whatever you need. real nice lady, great salesperson! so go get your stuff there yeah? ;)
yep, that's your friendly salesperson! heh.
gotta get back to work now. SIGH.
count down to hari raya! i still have not gotten my deng dengs. :(
till next time~
12:42 PM |
Saturday, October 08, 2005
[- hello -]
hey yo ho mo to no~
i'm doing fine, anne.
so as you've known, school has started. new classmates? err.. they're ok. but nothing like my previous ones. i'm seriously missing semester 1's PD0108. boohoo.
but i must say that i'm doing rather well in school uh. really thankful for this. i've been given so much opportunities here in RP.
i've been chosen, together with a number of others, to meet our president, S. R. Nathan this tuesday when he comes visit my school, for a dialogue session. maybe to some of you, it's no big deal. but to me, it's a great honour to be able to meet with the president and talk to him. not everyone gets this chance. :)
and, i've also been chosen to be apart of the Management Committee of STA's Generator, as Head of Events and Publicity. which means, MORE FUN! heh.
ok matters of school aside.. family's good, and i love zamry. ahaha. SIGH. not again, eh. haiyaah.
wanna wish my dearest
NUREEN
&
AUNTY HALIMAH
HAPPY HAPPY BELATED BIRTHDAY!
*hugs kisses to the both of you*
yay. today break fast at hyatt. they serve good dinner buffet ok! yummm.
till i hug the president. chay~ haha.
11:30 AM |
Friday, September 30, 2005
[- yay! -]
hello hello anneee...
so i was back from my class chalet yesterday. it went well. everything was great! so yeay. i'm gonna upload the pictures next time yeah. too lazy to do it right now.
anyway, the 2nd semester of school for me and my RP mates will be starting this monday. and i've just found out about my new class. PE0106. so it's really goodbye to PD0108. boohoo. thankfully, i have Connie with me for this new class. i'll be starting school with 22 strangers, 1 friend and myself.
oh and, i've also just checked on my results. looking pretty fine i say, considering i was quite a slacker. didn't study for my UT tests, absent for a number of times.. phew.
here are the grades for the 5 modules i took in semester 1.
Basic Science 1: B
Computing and Mathematical Methods 1: B
Cognitive Processes and Problem Solving 1: B+
Introduction to Communication Practice: A
Enterprise Skills: A
alhamdulillah, syukur pada allah.
okaehhh, i'm going out now. yay!
till i upload them chalet pictures~
3:42 PM |
Tuesday, September 27, 2005
[- be gone for awhile -]
ANNE!
yay! finally, after close to a month, i'm gonna meet up with my crazy PD01-08 classmates. YAY YAY and YAY!
so, yeahp, i'll be gone for a couple of days for my class chalet. i hope everyone will turn up and everything will be a blast. wheeeehoo!
oh yeah, you know what?
sjsdinjifnwhenhdoisu4oduewd4hon[uspwd!!!!!!!!!!!!!!!!!
!!!!!!!!!!
I SPRAINED MY LEFT ANKLEEEEEEEEEEEEEEEEEE...
it's hurting the erghhh out of me man. mum's asking me to go visit the chinese traditional clinic which is at paya lebar again. cause the last time my right ankle got twisted real bad, i went there and they just had to pull my uhh ankle into place. and of course, i felt all better after just that one pull done by the doctor. mas and fira kept asking me to go visit the ordinary family doctor, but i'm like thinking, what can those goons do right? at most they'll give me an MC to rest at home. and i definitely won't go for the
makcik urut
option. BLEH. guess i'm going to pay Paya Lebar a visit in about 15 minutes time. hopefully there'll be cabs, cause usually at this time, it seems that all of them avoid my area. wargh.
till i hurt no more and YAY! till i meet up with classmates~
9:19 AM |
Saturday, September 24, 2005
[- me and poetry? -]
hey anne.
i was bored, so i tried a Poetry IQ Test uh at this website, just for the fun of it:
http://www.poetry.com/Iq/index.asp
guess what? after i got my results, i fall under the category of
"8-11 You have an excellent grasp of poetic form, structure, and technique. People at this level have generally taken advanced-level study in literature or have completed advanced poetry courses. They have often spent considerable time writing, developing their own poetic "voice," and their own techniques. People at this level, particularly if they can apply their knowledge of poetic form and structure to their own work, are considered among the most talented of poetic artists."
CHAY.
haha. this is full of shit la. i only took lit in sec 1 and 2. so much for '
advanced-level study in literature or have completed advanced poetry courses.'
heh. they should have included this line "or they are just plain lucky!" in the category explanation. ahaha.
ok so anyway, this brings me to my topic for tonight. how reliable are these surveys, IQ tests, horoscopes and many other things which are along the same line as those i've mentioned? particularly those which can be found on the WWW. to me, after trying out a number of those, i can safely conclude that about 70% of them are not reliable at all. you just get crap, after participating in them. so, if you happen to do short surveys on the internet, and at the end of it, they give you conclusions such as "You are 20% CUTE!, 80% BITCH" or "Your score is 142, you're a GENIUS!" or "You are the guy every girl dreams of" ....
there's nothing to be ecstatic about, silly. don't be gullible. heh.

wargh! aku BOSAN!!!!
till i sing myself to sleep~
12:16 AM |